Solar-panel installation at gunpoint part of Kenyan Marxist President's fiendish master plan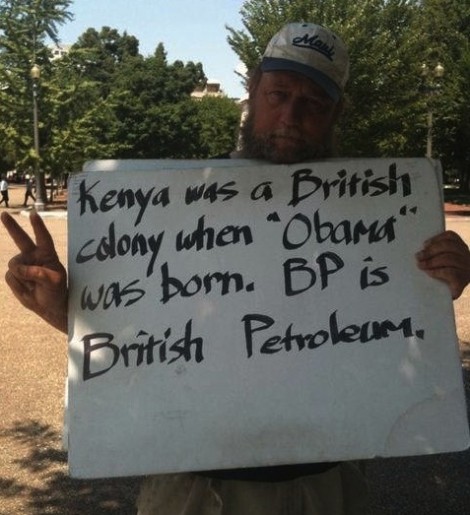 Yasha Levine

writes in

The eXiled:
The price of oil hit $125 today, a 33-percent increase since the start of the year, and will most likely keep going up.
For those wondering "why," there's a new theory that explains everything.
You've probably heard of "peak oil," a theory that explains the spike in oil prices in terms of dwindling world oil reserves, and predicts a total collapse of civilization as we know it sometime in the near future unless we all move to Montana and live off the grid. But did you know that there's a newer, better, more commonsense theory that unravels the mysteries of the oil market while staying friendly to oil companies and praising speculators? Well, there is. It's called "teabagger oil" and comes courtesy of the same liberty-lovin' freedom fighters who brought us the Tea Party Movement.
Just like peak-oil types, teabagger oil researchers claim to know the answer. They have unravelled the hidden Truth about Oil and why gasoline prices are so high. They know our fossil fuel-dependent society is in decline and understand the dire, apocalyptic consequences if we don't take drastic steps to change our ways. But that's where the similarities with peak-oilers end, and the teabagger-oil schism begins. Because unlike peakers, 'baggers aren't worried about scarcity or dwindling world oil reserves at all. Quite the opposite: 'baggers are supply-optimists, hardcore believers in bottomless American oil reserves (and other fossil fuels, too), which can be extracted in a perfectly safe manner, providing cheap energy, fueling the economy, and keeping this country energy independent for a long, long time.
But there is only one thing standing in the way of this bagger-oil utopia: A grand conspiracy hatched by our Kenyan-born President Obama to purposefully strangle America's domestic oil production and push up the price of oil. Why would Obama want to do that? Because this way, he and his radical left-wing cronies could push forward with their green-leninist energy plan that will ultimately result in collectivizing private property and forcing every American at gunpoint to put a government-subsidized windmill/solar farm in his yard. ...>more